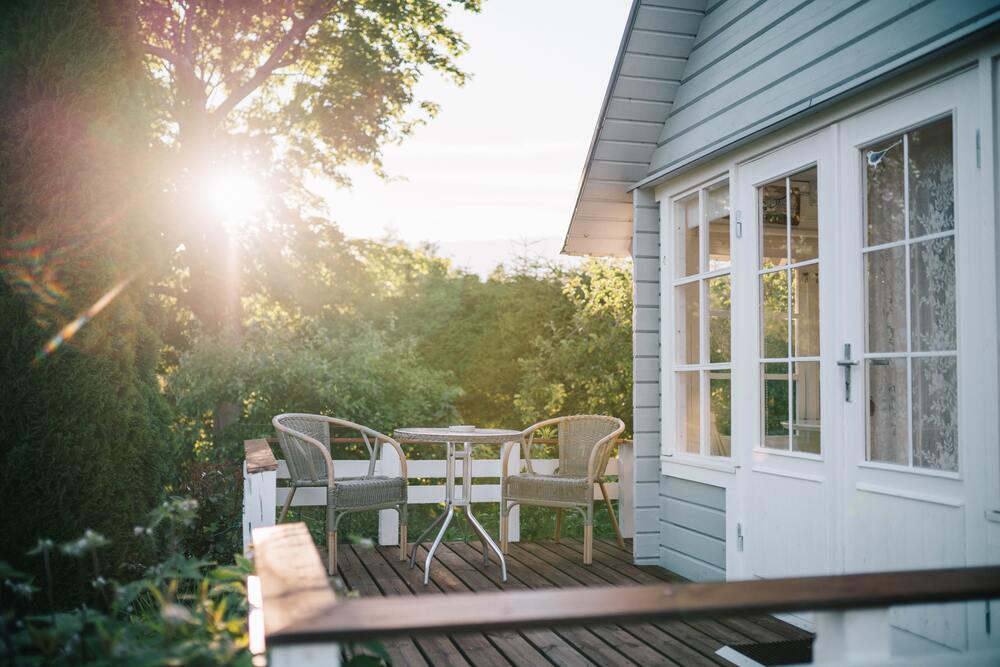 There are just some rental property maintenance projects you can't tackle in the winter. And during the rainy spring season, the weather can be hit and miss for outside projects. But now that we're heading into the summer months, those repairs and replacements can be handled. Here's a shortlist of ideal fixes you can do right now, and improve the condition, value, and aesthetics of your rental property.
Doors and Windows
Any drafty or worn exterior doors should be replaced now while the climate is moderate. And putting in a new, energy-efficient model can help keep your rental property cool all summer long. The same goes for any window replacements that need to be addressed. During the winter, it's too cold to replace windows. But now is the absolute perfect time to fix a broken or cracked window or replace the property's entire system of windows.
Air Conditioning Units
If your seasonal HVAC visit earlier this year pointed out that your air conditioning unit might not have much life left, now's the perfect time to replace it. Get ahead of any critical failures during the super-hot summer months and avoid a costly emergency HVAC technician visit. Schedule the appointment and go ahead and handle that replacement now.
Decks & Patios
Because your tenants want to spend their summers outside, now is a great time to freshen up a patio or deck space. Maybe you have a few railings to replace or want to apply a coat of fresh sealant. Repair any risky steps or boards, too. You'll have to replace or repair these areas at some point. You might as well do it now so your tenants will appreciate having a great space to grill out all summer long.
Driveways & Sidewalks
If you have plans to repair or replace any sidewalks, this is a great time of year to do so. You might have maintenance patching to do or cracks to seal, necessary for preserving the life of the drive or walkway. Do so now before the summer sun gets too hot.
Gutters & Roofing
Make sure your rental property's gutters and downspouts are fully operational and free of debris. Any water runoff that discharges next to the foundation could cause deterioration over time. And now that the spring foliage has transitioned to summer, it's a great time to replace any gutters that need attention. If you're scheduling a roof repair or replacement, May, June, and July are perfect months to do so, as well. Get ahead of any leaks or malfunctioning shingles before they turn into bigger problems later.
Interior Painting Projects
If your rental property needs interior painting, tackling those projects now while it's still comfortable enough to open the windows is a good idea. You'll want added ventilation to get any paint odors out of the living space. And since opening all the windows in January or mid-August doesn't sound appealing, right now is a great seasonal time to get all that painting done.
Add some of these rental property maintenance projects to your to-do list right now, and start scheduling your contractors. For more help and insights on how and when to jump on repairs and replacement projects, let PMI JCM Realty be your guide!
We explore the latest rental investment trends in the Tampa, FL market ongoing. If this particular subject sparks growing interest in learning more about how to improve your overall investment experience, sign up for our free webinar. Discover fresh strategies with this must-watch webinar that features insights about How to Streamline Your Rental Portfolio for Maximum Growth! Every Tampa area investor will find something relevant and informative to take away.
Don't forget, too; you can always find readily available answers to your most pressing rental property questions in our Facebook group. There you can feel free to engage directly with other rental property owners looking to achieve similar ROI goals. Exchange ideas and talk about similar challenges with other rental property investing professionals. And should you have unique questions that may require a more in-depth or tailored solution, schedule a meeting on my calendar; let's discuss!