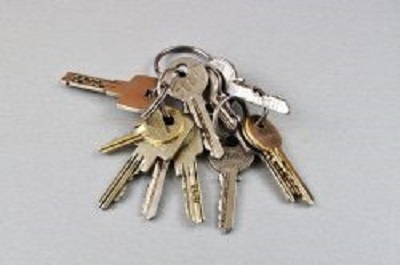 One of the many operational tasks that you often juggle as a rental property owner is key management. Whether you own one property or several multi-family units, you know keeping track of keys can be a challenge. And in today's digital, tech-driven environment, do property owners even still use physical keys anymore?
As a property owner, if you haven't had key troubles, you likely will eventually. Sometimes the tenants just change the locks without telling you. Other times, you arrive at the showing appointment with your prospective renters and have the wrong keys. And let's not forget the tricky backdoor lock that requires a series of dance steps and head-standing to get it to unlock. Today, we'll discuss the latest trends, including tips for organizing your key management process, as well as exploring your options beyond the old school ring of keys.
Master Keys for Backup
Master keys are essential for backup emergencies. Store these keys in a safe place and use them only to make additional copies when necessary. Keeping a master on hand will mean you always have a working key, in pristine condition, when you need it. Don't just label the key for which property or which door, either. Instead, stay better organized with key rings and tags and properly label those.
Get Yourself a Secure Key Box
There are several types and varieties of key boxes out there. Some attach to a wall, and others can be hidden on the property. These are great tools for storing spare keys onsite and incredibly helpful when tenants lose their keys, or you show up to your showing with the wrong set.
Coded Lock Sets
Realtors often make smart use of coded locksets. These work great for rental property owners, too. Keep spare keys safely tucked away and only accessible with the assigned code, usually five digits. It's a good idea to keep these codes written down, as well, and change them frequently like you would an online password.
Landlord Locks
This tricky little gadget might be the lock you didn't know you needed. What appears to be a standard lock has a few additional features, convenient for those who own multiple properties. The cylinder can be removed or replaced with a new key variation. Landlord Locks can easily be switched between your properties or rekeyed with the manufacture if need be.
Keypad Locks for Tenants & Landlords
Keypad locks are a great way to accommodate a variety of lockout situations. Using a code to access, tenants who lose their keys can easily be assigned a code. You can change codes as often as you'd like and assign specific codes for particular renters or contractors. You can keep records of which codes were used and know precisely who's entered your property at any given time.
Kwikset Locks
This brand of lock is unique and often a preferred choice for rental property owners. This lock design allows you to rekey it yourself. When a renter moves out, you can easily insert the key and reset it. Essentially, it operates in a way that permits you to wipe the old key pattern out and establish a new one.
Remote Smart Key Technology
Keyless entry technology has revolutionized the real estate landscape. They're great for eliminating lockout situations and efficiently can improve property security. They often can be installed in conjunction with existing physical locks and allow for greater access control. The downside is that some tenants aren't keen on the smart-home tech behind property access. One recent CNET report shared stories of landlord abuse in situations where over-tracking the residents, and even harassment were problems. Obviously, that's not you. But it's worth noting since some renters may have an opinion about these types of key management practices.
If key management is a struggle for you, especially if you own multiple properties, it might be time to partner with a rental property manager. You can hand over the keys and management to an organized professional and only concern yourself with resetting codes or handling masters. Contact us today to learn more about what else a property management partner can help you manage!
We endeavor to bring you the latest rental property best practices in the Tampa Metro area. To stay up to date and sign up for our free webinar. We'll discuss the topic, How to Streamline Your Rental Portfolio for Maximum Growth, and you won't want to miss it.
Join the conversation online, as well, with our Facebook group of like-minded property owners. Discuss suggestions and connect with other savvy rental property investors for operational insight. And when you need more tailored advice, speaking directly to your investment strategy, add a meeting on my calendar!