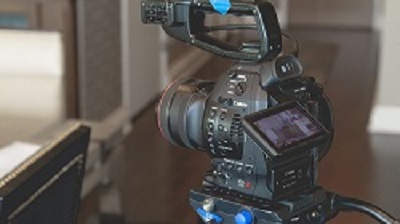 You know the importance of showcasing your rental property to prospective renters. But you may feel like you're not the photography expert you need to be to do an effective job with video creation. It's because of this lack of confidence you might sometimes find yourself not making videos at all or struggling to create the rental property marketing videos that work. Today, we'll offer four easy tips you can leverage immediately to begin making rental videos that feature your property's best assets. Videos that work will reach your target audience of potential tenants and inspire them to reach out to you about your rental property.
Don't Be Afraid to Use Your Smartphone
In today's digital environment, your average smartphone is designed to take clear and resonating photos and videos. Don't be afraid to use your phone to create walk-through videos of your rental property. Consider hitting 'record' and take a tour of your vacant rental, starting at the front door. Be mindful to walk slowly and speak clearly as you go. Having rooms pre-lit will help eliminate any dark corners, as well. Using your smartphone as your rental property marketing video tool means tapping into a low-cost, easy editing option. It also allows potential tenant prospects to view and experience your property in real light and without filters. And if you mess up a few times, you can always delete and start again.
Using the Five Senses to Engage Your Audience
Consider who your audience is when you begin creating your rental property marketing videos. You don't want to bore them or seem too salesy. Instead, think about the five senses and try to showcase what it's like to experience your property, room by room. For example, video the kitchen and ask the viewer to imagine family dinners, aromas of cuisine, or upcoming holiday gatherings. When you video the living room or den area, talk about movie nights and relaxing in a comfortable space. Helping your audience to envision themselves living in the space will, in turn, inspire better tenant engagement and showcase your property's features in the best light.
Creating A Video Out of Professional Static Images
If you have a portfolio of professional images showcasing your property, you can turn those into a scrolling video of still photos. Instead of posting a static picture, considering creating a montage to set those beautiful images to music. There are free apps online to help you create these, and you don't have to be tech-savvy to navigate them. This can help you get some extra mileage out of that professional portfolio. And it's a great way for camera-shy rental property owners to leverage video marketing without actually being in the video.
Where to Upload Your Rental Property Marketing Videos
Once you have a marketing video showing off all your property's best features, you need somewhere to upload it. You can, of course, share these videos on your social media pages. But you'll also want to find a venue to host your marketing videos ongoing. You can cross-promote by adding those links to your rental property marketing platforms, as well. In doing so, you can increase your audience reach and frequency exponentially with each video you share.
As a bonus tip, remember that when you're creating a video, you want it to be authentic. Evaluate your finished product and make sure it's clear, concise, and inspires a welcoming feeling about your property. And if you need more help with rental property marketing videos, or have rental property management questions, contact us. We can help you with video tips like these and other best practices for rental property ownership success.
For free coaching and real estate content, join our Facebook group or sign up for my free webinar. If you'd like personalized advice and assistance, send me a message.